Mold Testing Services in Grand Prairie, Texas
Why is mold testing useful for your home or business?
Mold is a problem in Central Texas and when it comes to selling houses, a mold-infested home is a real challenge for a homeowner.
There are also health issues to consider.
Fortunately, it is possible to get rid of mold; these microscopic organisms are found both indoors and outdoors. It will require a mold removal company to provide mold testing services and put your mind at rest. If you want to clear up any suspicions you have about mold - be it in a house you want to buy, or your own home or office, you'd better turn to mold testing service.
Mold Strains Can Look Different
Mold grows on surfaces, eating away any organic materials on its way.
Mold destroys and eats up what it covers. You will recognize mold by spots of green, gray, black, white, or brown, which can be fuzzy, powdered, or hair-like material. You get black mold, too, which is a dangerous mold to deal with. Black mold testing companies will come through for you and test for black mold.
Mold Grows After Water Damage
If you have discovered mold after water damage in your home, this might be covered by your insurance policy. You will have to act quickly though to prevent further damage. Water damage from broken pipes or flooding would require you to stop the source of leakage and flooding. You would need to move rugs and carpets quickly. Remember not to throw away damaged or removed property until your insurance company says so.
You can often expect large-scale mold problems from flooding or leaks or when there is high humidity in the home. Indoor mold growth can cause high levels of airborne mold spores. It spreads quickly to other places of the home, damaging walls, cabinets, sofas, and carpets. Unchecked mold growth can creep in and even settle on the structural parts of your home.
Health Is Affected
Even though vast numbers of people can get exposed to small amounts of mold, they don't seem to suffer much harm. Nevertheless, it is still risky and can cause some nasty symptoms such as these:
Fatigue
Breathing difficulties, like wheezing and shortness of breath
Nasal congestion with sneezing
Coughing and throat irritation
Watery and red eyes
Skin rashes
Headaches
Allergic reactions to mold are common. Whether you already experience allergy symptoms or not, touching or inhaling mold spores may cause you to have mold-related respiratory symptoms.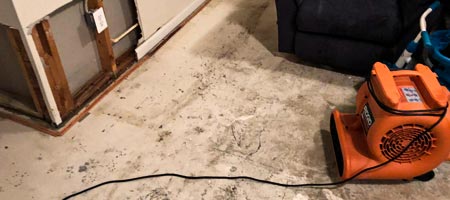 Signs of mold growth in the home
When you see unexplained discoloration on surfaces
A musty smell pervades
Dark spots around and on the vents
Water stains anywhere
Wallpaper or vinyl floors are peeling and curling
What should you do?
Now is a good time to call for mold testing services in your area. We have experience to deal with any mold problems, whether from plumbing leaks, flooding, or other damaging circumstances. We won't just give your home a visual inspection or just take an air sample. We will locate all suspected areas of mold growth using professional mold testing equipment, and prepare a plan to deal with the cleanup according to the defined area that needs treatment. Sometimes remediation inspectors will say they offer "free inspections" but then they make up with a very costly clean-up!
What should a good inspection company do?
A Mold testing service company will include a visual inspection with photos, evaluation of your property, floor plan drawings for remediation protocol, taking temperatures, checking humidity, and air sampling. They will send the samples to the mold testing laboratory. Get only a professional service like Tulip Carpet Cleaning Grand Prairie that is highly experienced in mold testing services.
The Bottom Line - Hire Specialists with Top Results
Besides our highly qualified staff, we have expanded our availability for all our customers and improved our response time through our partnership with O2 Mold Testing. This local company is fully licensed, certified, and insured for your peace of mind.
When you need to be certain that mold is an issue in your property, you can choose Tulip Carpet Cleaning Grand Prairie with confidence. Our mold testing and inspection services will give you the information you need to care for your home or business. Get an estimate or ask a question on 469-416-4508.