Mold Remediation in Grand Prairie
Mold is common in many homes and can pose a serious health hazard. The reproduction process involves producing spores, which are microscopic spores that spread easily through the air to other areas. This grows into more mold where it lands and the conditions are right. Not only do they produce irritants, allergens, but even toxic substances that could trigger respiratory problems like asthma when inhaled. Mold remediation is very important for yourself or your family members in these circumstances.
What is the Best Mold Remediation Technique?
The impact of mold is huge, in terms of the lowered air quality health hazards it poses for you and your family. Neglecting this problem could lead to even worse issues. If you don't get the affected properties cleaned up you can face more damage over time.
The best way is to involve professionals trained specifically on removing these pesky molds from every nook and cranny. This includes ceilings and any other places like walls, old furniture, carpets, carton boxes, organic products etc.
There are a few different types of mold you might come across which can be easily treated. The first is limited to small areas, such as the bathroom tub and certain sections of drywall near leaky taps. The US EPA recommends that you call a professional mold remediation service for any areas of mold exceeding 10 square feet.
The biggest risk in mold remediation is that you can make matters worse. There is always a possibility of mold spreading into the air while cleaning; therefore, it is recommended to call professionals with the technical skills to remove mold safely.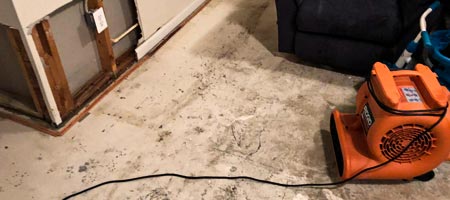 Why Choose Professionals for Mold Removal?
You might think you can handle the mold yourself, but our experts advise that it is better not to do it. Professional removal specialists have special equipment and training for situations like these, so they know what steps need to be taken to get rid of it quickly - without any negative effects on your home or workplace health-wise.
Mold is pesky and will multiply in certain environments. The faster it's taken care of means less time spent dealing with damage or spending unnecessary money on repairs later down the line. For severe mold issues, you need a professional who can take steps right away. To make sure that we have the most flexible availability for our customers, we work together with local mold remediation experts, FDP Mold Remediation. They are a valued part of our mold remediation team, with certified and qualified mold specialists.
Contact Tulip Carpet Cleaning Grand Prairie to ensure your home is professionally treated for mold and you will kindly be given some expertise advice on how to stop mold regrowth.
FAQ
How much does mold remediation cost?
Mold remediation cost varies depending on the degree of infestation. The level of infestation determines the time and equipment used for remediation and in the end affects the cost of remediation. Call us for an on-site estimate of the remediation cost.
Is it worth getting mold professionally removed?
Yes. Mold removal requires special equipment and skills to ensure it does not spread to other unaffected areas during removal and ensure all colonies are properly eradicated. If not properly done mold can recur within a short period and increase remediation costs in the long run.
What equipment do our experts use to clean up mold?
Equipment used during mold remediation varies depending on the extent of the infestation and affected areas. In most cases, HEPA Vacuums, Industrial grade air filters, and dehumidifiers are used.
Are DIY mold remediation techniques good?
No. DIY mold remediation is not advised because of the complex remediation process and its health implications. If mold containment is not done properly during remediation, it can easily spread to other areas of the home making it more difficult to completely eradicate.